MSMEC Offices Open to the Public
MSMEC's Mora and Pecos  offices are open to accommodate Members who wish to conduct their business in person.
Members choosing to conduct their MSMEC business in person will be required to adhere to Covid-19 Safe Practices at all times during their interaction:
Customers must be in good health – subject to temperature check

Required to wear a face mask

Maintain 6 foot distancing from others

Apply hand sanitizer prior to engaging with Cashier

Limit access to TWO  members in the lobby area
MSMEC will provide the signage, markings, and hand sanitizing stations to assist Members with complying with Covid-19 Safe Practices.
We continue to take payments by phone and we will sign up Members for recurring Credit Card Payments by phone, per request.
You may contact MSMEC should you have questions at:
575-383-4272, Toll Free: 800-421-6773 or 888-783-0011
 Select Option 1- to make payment

 Select Option 2- to report outages

 Select Option 3- to reach the OPERATOR
Thank all of you for your cooperation during these past months. We miss interacting with all of our MEMBERS.
REMINDER:  Summer Hours remain in effect through October 27, 2020.  7:00 a.m. to 5:30 p.m. closed for lunch from 12:00 – 12:30 p.m.
Winter Hours begin October 28, 2020 and are from 8:00 a.m. to 4:30 p.m. closed for lunch from 12:00 to 12:30 p.m.
Mora San Miguel Electric Cooperative Management Team
MSMEC NEW PHONE NUMBERS
To better serve its members, MSMEC installed a new phone system.
Please note our new phone numbers:
575-383-4270 or 800-421-6773 or 888-783-0011
You may select :
Option "1" to make a payment

Option "2" to report an Outage

Option "0" to reach the Operator
We will accept calls to MSMEC's old phone numbers for an additional 30 days;  however effective October 3, 2020, calls to the old numbers will not be received by MSMEC.
OLD Phone Numbers:
Mora Office -  575-387-2205  /  Pecos Office - 505-757-6490. 
Thank you for your cooperation! 
Mora- San Miguel Electric Cooperative Management Team
REMINDER:

MSMEC's phone numbers have changed:
MORA

-

575

-383-4270 /

PECOS

-

575-

383-4220
The area code for both locations is

575.
You may also call us at: 800-421-6773 or 888-783-0011
Congratulations Larry Barela!!
2019 New Mexico Long Rope Award Recipient
2019 New Mexico Long Rope Award Recipient
            Mora - San Miguel Electric Cooperative's Systems Operations Manager, Larry Barela         is the 2019 recipient of the New Mexico Rural Electric Self-Insures Fund,           Long Rope Award.             The Long Roper Award is an annual acknowledgement of an electric cooperative's employee who stands out as a leader in safety and consistently demonstrates a culture of safety in such a challenging field. Lazaro (Larry) has worked for MSMEC for 28 years. He is a leader in all aspects related to his responsibilities. His knowledge of the distribution system and dedication to his work enables MSMEC to be responsive to consumers' needs while insuring safe work practices for crews working in all types of conditions.  In recognition of his safety standards, Larry received a Pamela Renfroe painting of an electric cooperative scene.
                                    Congratulations Larry, Well deserved!
Let's create a culture of safety together!
TO LEARN MORE ABOUT MSMEC'S AUDITED FINANCIAL STATEMENTS, PLEASE CLICK HERE.
Pictures from the pole replacement project in San Juan on 6.24.2020.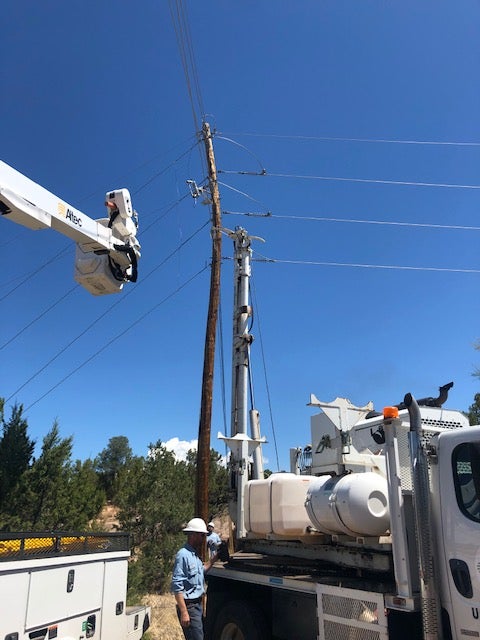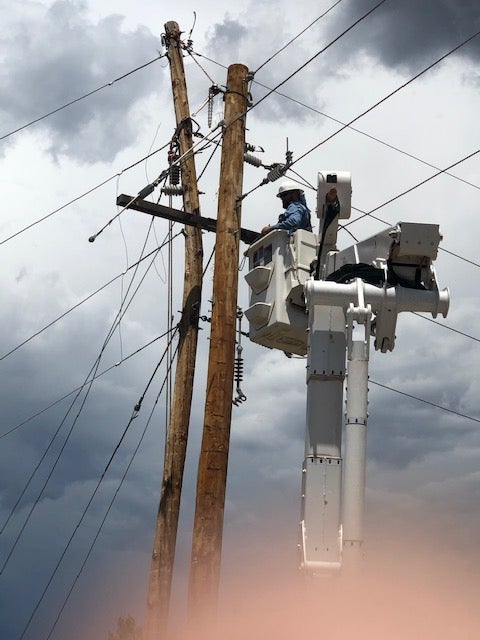 NOTICE TO MEMBERS - PHONE SYSTEM UPGRADE
Office Hours:  Monday - Thursday 7:00 a.m - 5:30 p.m.
Closed for lunch from 12:00 - 12:30 p.m.
Office is closed on FRIDAYS!
If we can be of assistance, please contact our offices:
Mora – 575-383-4270/800-421-6773                                             Pecos – 575-383-4220/ 888-783-0011