Please be advised due to safety measures for our field personnel, some areas that experience outages during our current FLASH FLOODS may remain without power until the rain/water has ceased and road conditions are safe to pass through.
Thank you for your understanding and patience during these unforeseen times.
NOTICE TO MSMEC MEMBERS!!!
Members have informed MSMEC staff about receiving calls from individuals who claim to be MSMEC employees, DEMANDNG money for the customer's electric utility. The caller ID display may say Mora-San Miguel Electric or MSMEC; however MSMEC staff WILL NOT ask you to purchase a pre-paid card OR make immediate payment. Pay special attention to the caller's accent. It has been reported the callers have a heavy foreign accent.
MSMEC staff makes courtesy calls on members delinquent accounts; however it is a request for payment, but never a demand. Instead we accept payment and make payment arrangements for those in need of a little more time to pay their bill.
If the call seems suspicious to you, hang up and call MSMEC directly at 575-383-4270 or 575-383-4220 or 800-421-6773.
Upper Gallinas/Calf Canyon/Evergreen Valley rebuild work will be bid out on Thursday, July 21st and the bid award is scheduled for July 28th. Contractors interested in bidding will visit the sites on the July 21st.
Work to begin by August 8, 2022.
Thank you for your continued patience.
MSMEC prepared a letter with specific dates for each area which was de-energized during the Hermit's Peak/Calf Canyon fire.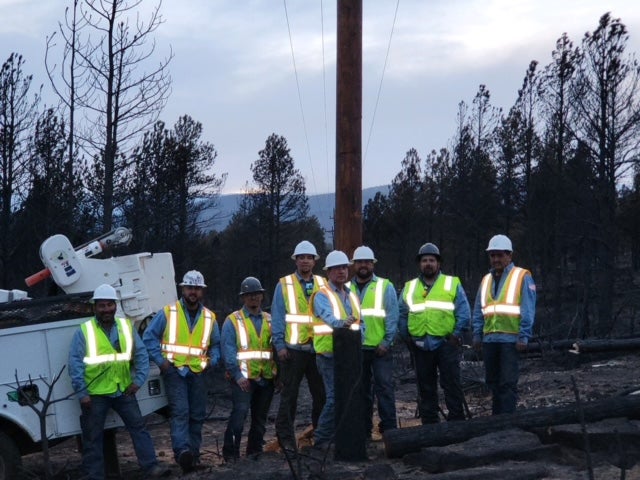 Mora-San Miguel
Electric Cooperative, Inc. will begin "Summer Hours" on Wednesday, March 30, 2022.
Office hours will be: Monday through Thursday from 7:00 a.m. to 5:30 p.m. and closed from 12:00 p.m. to 12:30 p.m. for lunch.
Closed on Fridays!
We thank you for your business!
The  Human Resource Administrative Assistant and Bookkeeper positions have been filled.  
Federal Assistance Available for Renters
Federal funding is now available to our consumers who rent. Funding will pay for monthly rent and utility costs. Funding applications are being accepted beginning April 5, 2021. 
You may apply online at:
www.RentHelpNM.org or by calling
Program: Frequently Asked Questions
You may download the Rental and Utility Assistance Application Here!
PUBLIC NOTICE
END OF TEMPORARY MANDATORY MORATORIUM ON DISCONNECTS OF RESIDENTIAL CONSUMERS (PRC CASE NO.20-00205-UT, FEBRUARY 4, 2021)
PRC issued notice on February 4, 2021, the Mandatory Moratorium on Disconnects would terminate upon the end of a transition period beginning the lifting of the moratorium on disconnections in accordance with Rule 410.
If you have a past due bill, you are encouraged to contact our office to make payment arrangements. 
 
Please call 575-383-4272 to set up your payment schedule!
Please click here for more information!
MSMEC IVR Payment System
Mora-San Miguel Electric Cooperative, Inc. (MSMEC) has installed an Interactive Voice Response (IVR) system. Dial 575-383-4270 and Select Option 1 to for customer service/make a payment. This automated system will prompt you to enter or say your 8 digit electric account number.  It will confirm the account number and if correct will allow you to access your MSMEC consumer account history or make a payment using your telephone keypad or by speaking your responses.  This system is available in English and Spanish.
This system will allow for immediate customer service.  This will aid in responding to calls and consumers to make a payment with no extended hold times.
Mora-San Miguel Electric Cooperative, Inc. ha instalado un sistem de respuesta de voz interactivo.  Marque 575-383-4272 y seleccione la opción 1 para servicio al cliente/realizer un pago.  Este Sistema automatizado le pedirá que ingrese o diga su número de cuenta eléctrica de 8 digitos.  Confirmará el número de cuenta y, si es correcto, le permitirá accede al historial de su cuenta de consumidor o realizar un pago usando el teclado de su teléfono o diciendo sus respuestas
Este Sistema permitirá un servicio al cliente inmediato.  Esto ayudará a responder a las llamadas y a los consumidores a realizer un pago sin tiempos de espera prologados.
During the special legislative session on November 25, 2020, $330 million in CARES Act Coronavirus Relief funding was allocated to
address the impact of the COVID-19 crisis in New Mexico.  Included in the funding was $14 million for housing cost assistance.  For more
information and to apply for assistance please click on the link below:
https://housingnm.org/static/covid-assistance
REMINDER: 
Summer Hours begin Wednesday, March 29, 2022 and are from 7:00 a.m. to 5:30 p.m. closed for lunch from 12:00 to 12:30 p.m.
Closed on Fridays!
Mora San Miguel Electric Cooperative Management Team
MSMEC NEW PHONE NUMBERS
To better serve its members, MSMEC installed a new phone system.
Please note our new phone numbers:
575-383-4270 or 800-421-6773 or 888-783-0011
You may select :
Option "1" to make a payment

Option "2" to report an Outage

Option "0" to reach the Operator
REMINDER:

MSMEC's phone numbers have changed:
MORA

-

575

-383-4270 /

PECOS

-

575-

383-4220
The area code for both locations is

575.
You may also call us at: 800-421-6773 or 888-783-0011
TO LEARN MORE ABOUT MSMEC'S AUDITED FINANCIAL STATEMENTS, PLEASE CLICK HERE.
Office Hours:  Monday - Thursday 7:00 a.m - 5:30 p.m.
Closed for lunch from 12:00 - 12:30 p.m.
Closed on Fridays!
If we can be of assistance, please contact our offices:
Mora – 575-383-4270/800-421-6773                                             Pecos – 575-383-4220/888-783-0011